ACAR KARAT SIERA MINI PANNENSET 5 DELIG
Product description
ACAR KARAT SIERA MINI PANNENSET 5 DELIG
Inhoud:
1 x Pan 14cm
1 x 16cm
2 x Deksel
1 x Sauspan 14cm
Shipping methods
Shipping methods
De indicatie van de verwachte levertijd is gebaseerd op de voorraad, de gewenste betaalmethode en de levertijd van onze bezorgservice. Samen doen wij ons uiterste best om jouw pakket zo snel mogelijk te bezorgen.
Verzendkosten binnen Nederland (30kg) € 7,95.
Alle andere landen in de Europese Unie (30kg) € 12,95.
Vanaf € 250,- GRATIS VERZENDING !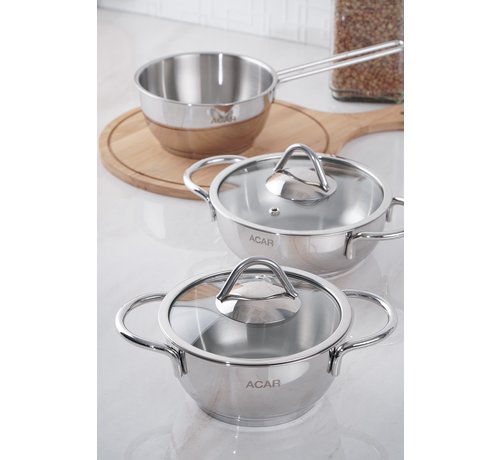 This is it!
ACAR KARAT SIERA MINI PANNENSET 5 DELIG
79,95 € 39,95 Add to cart
Do you have a question about this product?
Our employee is happy to help you find the right product
Reviews
User reviews
5 / 5
By - 17-04-2023 22:40

Perfekt für essensreste
Recently viewed